02 Jun 2013
GRANT DONATION FROM DONALD LAWSON!!! CONGRATULATIONS from grant.donaldlawson@kimo.com
Donation from Donald Lawson who won $337 million in the Powerball Millions Lottery and wants to give you a million!
What a fairy tail, unfortunately it is a scam!
Delete this email and do not send them any of your personal details!

In general when you suspect the email could come from a scammer:
Do not reply, delete the e-mail immediately!

Never ever give any personal data, information out via e-mail to anybody!

Do not click on any embedded links in the mail!

Do not attempt to open any attached documents!

If you accidentally opened an attachment make sure you run a virus check and a spyware check on your computer immediately!
Here is the link to the best freeware we know.
http://lavasoft.com/products/ad_aware_free.php
Ad-Aware is a Free Antivirus+ combines the legendary Anti-spyware with a super fast, free Antivirus. It now features download protection (blocks malicious files before being written to disk), sandboxing (keeps unknown apps running in a virtual environment) and advanced detection – it's our most powerful free antivirus yet.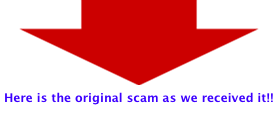 From: "DONALD LAWSON DONATION"<dl-grant0001@dl-foundation.grantdonation>
Date: 2. Juni 2013 05:06:44 MESZ
To: Recipients <dl-grant0001@dl-foundation.grantdonation>
Subject:*** Spam *** GRANT DONATION FROM DONALD LAWSON!!! CONGRATULATIONS
Reply-To:grant.donaldlawson@kimo.com
Greetings…. I am Mr Donald Lawson, of Lapeer, MI 48446 USA. I won $337 million in the Powerball Millions Lottery as introduced on Friday August 17th 2012 by Michigan Lottery Officials.
Please share in my joy and verify this by visiting: http://usnews.nbcnews.com/_news/2012/08/31/13591150-winner-of-337-million-powerball-jackpot-revealed-in-michigan?lite
It is a thing of joy for us; Hence the need to disburse fraction of our winnings; to Good spirited individuals, Churches, Orphanages and Charities.
Under Individual category; Your email address amongst other (4) Lucky ones was submitted to receive grant of $1,000,000 USD from us. This was certified after careful balloting by Microsoft Data Base Email And Google Management Team.
Please provide your data (Detailed information) below to enable us certify a Bank Draft in your name to your operational bank account.
============================
Full Name:
Address:
Country:
Age:
Occupation:
Sex:
Mobile/Tel:
Scan copy of identification:
============================
For claims, forward above details via email to: donaldlawson.grant@kimo.com
Donald Lawson,
Lapeer, MI 48446 USA.
Email: donaldlawson.grant@kimo.com